TU Dortmund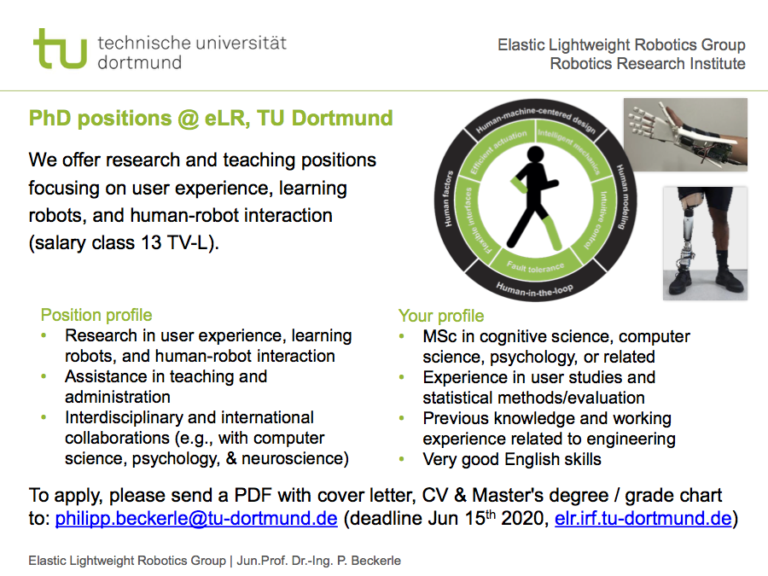 University of Luebeck
*** CALL FOR PHD STUDENT or POSTDOC POSITION AT THE UNIVERSITY OF LUEBECK, GERMANY ***
The Neural Learning for Robotics (NLR) laboratory headed by Prof. Dr. Elmar Rueckert at the Institute for Robotics and Cognitive Systems (Director: Prof. Dr. Achim Schweikard), University of Luebeck, Germany, is looking for highly motivated Ph.D. students or postdocs with experience in one of the fields robotics, reinforcement learning, machine learning or computational neuroscience. The position provides the possibility of gaining a further academic qualification (PhD or habilitation depending on previous degree).
PhD Student or PostDoc Position TV-L E13 up to 4560€1
Research Topic: Active transfer learning with neural networks through human-robot interactions (TRAIN), project website (https://train.ai-lab.science).
Start Date: ASAP or latest till Dec. 2020 upon request.
Application Deadline: Call is open until the position is filled.
Salary: TV-L E13 salary scheme of up to 4560€ per month, granted for 18 to 24 months, depending on your qualification and experience (see the gov. salary calculator for details). Extension for another 24 months is possible.
Requirements: Students (f/m/d) with a master's degree (or equivalent) in computer science, mathematics, physics or engineering are invited to apply. A strong background in robotics, mathematics or machine learning is highly desirable. Excellent programming skills, analytical problem solving and organizational abilities are required. Very good English language skills, knowledge of German is not required.
How to Apply: A full application consists of:
(1) a detailed CV,
(2) a statement of motivation,
(3) up to two letters of recommendation,
(4) your master's thesis as pdf (for postdoc applications the PhD thesis),
(5) all relevant degree certificates and grade transcripts: secondary school leaving certificate, Bachelor's degree certificate, Master's/Diploma degree certificate (please attach certified translations in German/English, if the original copies are in other languages),
(6) name/email/phone number of two further referees to contact,
(7) previous publications (e.g. from M.Sc. studies) are not required but will be considered in favor of the candidate.
Please submit your application via email to Prof. Dr. Elmar Rueckert jobs@rob.uni-luebeck.de.
The University: The University of Lübeck is a modern university specializing in Medicine, Computer Science, Molecular Biology, Biomathematics and Medical Engineering. Internationally renowned research and high standards of academic tutoring characterize the profile of the university. The University of Lübeck sees itself as a modern and cosmopolitan employer. We welcome your application regardless of your age, gender, cultural and social background, religion, belief, disability or sexual identity. We promote gender equality. Priority will be given to women who have equal aptitude, competence and professional performance. As an applicant with severe disabilities or a person of equal status, we will give you preferential consideration if you are appropriately qualified.